Q&A on Women in Public Finance with Elizabeth Funk
03/15/2021
Managing Director and High Yield Underwriter Elizabeth Funk found a passion for diversity and inclusion initiatives 16 years ago when she began her career in municipal trading and underwriting. Funk is an advocate for women in her field, serving as a board member for National Women in Public Finance (WPF), co-chair of the WPF Mentorship Committee, and a mentor for Rock the Street Wall Street. In honor of National Women's History Month, Funk recently sat down with HilltopSecurities to discuss trends she's observed and where women are headed in the industry.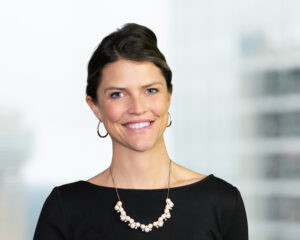 Q: How are women growing their presence in the financial services industry?
A: I believe women have always had a presence in the financial services industry. The recent focus on women and other diversity statistics within our field, has brought more awareness to the demographic mismatch. This awareness has perhaps allowed for more acknowledgement of women and their unique contributions. As more and more women hold executive and leadership positions within the industry, their collective presence will continue to grow.
Q: Why should women support other women pursuing a career in public finance?
A: Woman-to-woman support in public finance is critical because the industry has historically been a male-dominated environment. Encouraging other women will promote empowerment, increase retention, and help close the gender gap in the industry. Data supports that having women in leadership positions, along with an overall diverse workforce, benefits the bottom line. If women don't support one another to help build inclusive work environments, diversity metrics and work cultures won't improve.
Q: How are females making history within the public finance industry?
A: Some of the senior women in public finance—ranging from bankers on the private side to debt managers on the public side—began their careers as the only female in the room. Now, they're participating in women-centered organizations. They're able to see the hundreds of women who have followed in their footsteps and may even sit in conference rooms that are half full of women!
Q: What kind of impact does mentorship have for women in the workforce?
A: I believe mentor relationships are a key component for any individual's success. Not only does the mentor/mentee relationship allow for learning, you also realize many of your challenges and triumphs are similar, which can be empowering. One step further from a mentor, is a sponsor—who's able and willing to fight for you behind closed doors. Sponsorship is invaluable and is one of the most impactful ways to support others.
Q: What advice do you have for young women beginning a career in the public finance?
A: Firstly, I recommend that young women interested in public finance learn about their strengths and weaknesses by participating in courses, reading books, or even hiring an executive coach. This allows you to more confidently show up at the table, because you're only able to leverage your strengths and improve your weaknesses once you've identified them. Secondly, learn how to be your own best advocate. While you can have mentors, and hopefully, sponsors in your career, you can only control yourself.
Q: How has COVID-19 impacted mentorship opportunities that support women?
A: The virtual environment created by the pandemic should make supporting, mentoring, and sponsoring women easier. For example, it can sometimes be more convenient to have a call with someone than meeting in-person for coffee. Additionally, mentors can include people in virtual meetings who may not have been able to attend an in-person meeting. Hearing other perspectives can promote learning for both mentors and mentees. Despite COVID-19, there are still plenty of opportunities to mentor others virtually and foster a supportive environment for women.
Q: What can public finance professionals do to empower the next generation of women?
A: I believe this starts with reaching out to mentor and support younger women, even in middle and secondary education. Young women need to see people who look like them within a certain field to believe that similar success is achievable for themselves. If they don't see women holding senior positions in a particular field, they are less likely to choose that career path because it can seem out of reach. Similarly, if young girls don't see college women majoring in math or another subject that interests them, they are less likely to choose that path. If we can start mentoring and supporting women during their early years, the gender gap in financial services should improve. Of course, we also need to follow through in supporting and empowering women of all ages in the industry. I believe this method to be true for creating all types of diversity. WPF has a dedicated Mentorship Program that pairs women within the industry with a mentor/mentee, but even elsewhere in the industry, I find networking and sharing experiences with other women to be encouraging, educational, and the relationships to be enjoyable!